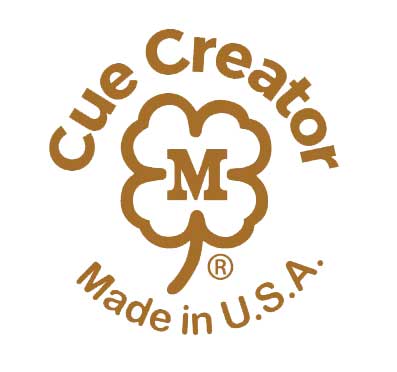 12 Week Lead time Custom Shop Cues
The Cues we have in the shop are Made in Milwaukee and all CNC tapered cues.
They have either optional shaft choices of Ash, Maple and Radial Laminated maple. This Production cue range is available in 58 inches only and a tip size of between 9.5-9.75mm and a weight of 18 ounces.
The Joints on these cues will be urethane (one side) in the Three-Quarter section of the cue as shown in the images online and has been used by McDermott for over 20 Years.
These Shop Cues have a lead time on 12 weeks
Regards
The Cue Creator Team
Sale
USD $

1,000.00
–
USD $

1,100.00
This Page is dedicated to a new line of cues we have offer which can be used for all types of cue sports. This inlay design cue 2 can have either of the the shafts in Radial Maple, Maple or Ash Shafts and made as a one piece or three quarter Cue. The butt uses ebony as the main timber with inlays of  silver diamonds and  6 Turquiose and bone point work.
The cue Specifications are as a production cue:
58 inches in Length
9.5-9.75 mm ferrule diameter
butt diameter of 30mm
cue weight of 18 ounces
Weight adjustable joint in three quarter and butt end as well
USD $

1,000.00
–
USD $

1,100.00