Description
McDermott G1401 Pool Cue
The G1401 USA Pool cue from Cue  Creator features a birdseye maple forearm with 6 black urethane, white urethane, bocote and brass points. The Cue Creator difference is that we offer many of the variations that can be offered as well as being close relationships in production due to our ongoing business with them.
Other features of the G1401 are the black urethane sleeve with bocote, brass rings and 6 Sets of bocote, white urethane and brass sleeve inlays with a quick release joint. The McDermott G1401 comes with a birdseye maple and bocote no wrap handle and i-2 shaft with other options as in our listing.
All McDermott shafts are made from the finest hand-selected North American Hard Rock Maple and are turned ups to 11 times.
Each shaft is machined, bored and CNC-thread cut for consistency. Throughout the world billiard's industry McDermott pool cues are a very well recognized products.
Proudly, McDermott pool cues are manufactured at Menomonee Falls, WI in the U.S.A and these cues warranty is lifetime, which includes cue warpage.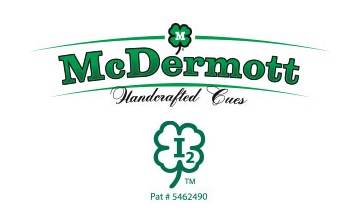 Features
Birdseye Maple forearm
Recon Ebony sleeve
Bocote/brass rings
i-2 shaft
McDermott Quick Release joint
6 Recon Ebony/Recon Ivory/Bocote/Brass points
6 Sets of Bocote/Recon Ivory/Brass sleeve inlays
Birdseye Maple/Bocote no wrap handle