Description
McDermott G1501 Pool Cue
The G1501 USA Pool Cue features a curly maple forearm with 8 cocobolo, maple mother of pearl and pewter points.
Cue Creator offers all the various variations possible in your new cue in our drop down selections. As we work closely with McDermott we have great contacts with the engineers and staff.  Other features from McDermott cues on this cue are the birdseye maple sleeve and Intricate cocobolo, mother of pearl, pewter sleeve inlays rings.
The G1501 comes with a lizard-embossed italian leather wrap and i-2 shaft  with a McDermott quick release joint plus other options with wraps and shafts in our listing. All McDermott shafts are made from the finest kiln-dried hand-selected North American Hard Rock Maple and are turned 11 times.
The shaft are machined, bored and CNC-thread cut for consistency. McDermott selects only the finest woods from around the globe and ages it for 18 to 24 months, storing and machining each piece three times to stabilise the timber. Throughout the world billiard's industry McDermott pool cues are a very well respected product for their high levels in quality inlays and crafts people.
Proudly unlike other so called USA cue makers McDermott pool cues are manufactured at Menomonee Falls, WI in the U.S.A and these cues warranty is lifetime, which includes cue warpage.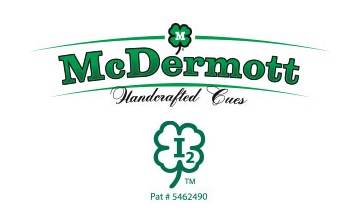 Features
Curly Maple forearm
Birdseye Maple sleeve
i-2 shaft
McDermott Quick Release joint
8 Cocobolo/Maple/Mother of Pearl/Pewter points
Intricate Cocobolo/Mother of Pearl/Pewter sleeve inlays/rings
Lizard-embossed Italian leather wrap