Description
McDermott G1601 Pool Cue
The G1601 USA McDermott Pool Cue features a Black urethane forearm and sleeve with 6 turquoise, pewter, and white urethane points. The G1601 design used in the butt sleeve are the silver rings, 6 turquoise, white urethane inlays and a McDermott Quick Release joint.
So why purchase your cue through Cue Creator? We have all the variations and selections in drop down boxes here for you to pick from as well as close relationships at McDermott with the Cue Creator Business. 1601 McDermott cue comes with a Turquoise/white urethane "Web" no wrap handle and a i-2 shaft plus options for other shafts in the listing.
All cue shafts are made from North American Hard Rock Maple and are turned 11 time which ensures the highest quality.
The shafts are machined, bored and CNC-thread cut for consistency. Our Suppliers hand select only the finest woods from around the globe and ages it for 18 to 24 months, storing and machining each piece three times to make the best shaft quality in the industry today. Features of McDermott cues such as their quality construction, intricate inlays, exotic woods and limitless options make them a standout leader in pool cue's worldwide.
Proudly, McDermott pool cues are manufactured in the USA at Menomonee Falls, WI in the U.S.A and these cues warranty is lifetime, which includes cue warpage.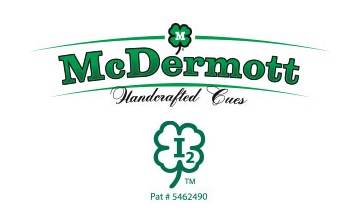 Features
:
Recon Ebony forearm/sleeve/handle
Silver rings
i-2 shaft
McDermott Quick Release joint
6 Turquoise/Pewter/Recon Ivory points
6 Turquoise/Recon Ivory sleeve inlays
Turquoise/Recon Ivory "Web" no wrap handle