Selecting a Cue
Selecting a pool, billiards or snooker cue is a personal choice and as everyone has different needs. This means the manufacturers launch various styles for their customers.
This makes that decision a little tricky for novice players who are not sure which cue will enable them to improve their game. For beginners to these games you will often start out with the cues provided at pool halls, snooker clubs or even public houses. These cheap cues not suitable for players who wish to extend their skills but they are a good starting point to see if you have an interest in playing these games.
In the long-term to improve your game you will need to buy your own cue to improve your game. Seeking advice from players who have been playing for a few years can also help to make your choice much easier.
I was always told that a cue has to feel natural in your hands, well-balanced with the correct weight that is suited to your style of play. The cue should become an extension of your own arms over time so that every time you pick the cue up it "feels right" and will give you more confidence in your game.
In many cases, they will even allow you to try out their cues on a couple of shots to give you some idea of the weight of cue that suits you.
Snooker cue from cue creator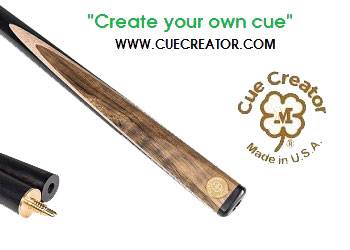 If playing snooker, you may need a longer cue than a pool or billiard player so bear this in mind.
Another major factor that must be considered is your budget, you may wish to spend less on your first cue and overtime as you become more skillful decide that you wish to upgrade to an even better quality cue.
When I first started playing pool and snooker I upgraded my cues three times in the first year until I found the cue for me and spent more on each upgrade until I found the cue that suited me perfectly.
Top quality cues are not cheap but they are an investment for serious players. If you are happy to play in local leagues for example and not wish to reach higher levels, then maybe a slightly cheaper cue will be more suited to your needs.
There are two main methods of producing quality cues, they are either hand spliced or machine spliced and we now also have other options as well in inlay designs.
Your budget may decide which version you opt for as obviously hand spliced cues will demand higher prices as machine splicing is cheaper to produce large numbers of cues. Remember that however you cue is produced it will only perform as well as you control it.
Machine spliced cues are usually a solid piece of wood that runs through the whole cue and they are strengthened with some small splicing around the handle. With hand spliced cues more expensive and harder woods tend to be used as are hand built by craftsmen to a high standard hence the price.
Most cues are made from ash or maple or now also radially laminated shafts with rosewood or ebony spliced into the handles. An easy way to tell the difference between the two is to look at the splicing. Machine splicing leaves pointed ends to the splice where hand crafted splicing leaves rounder ends on the splice.

Cues are available as one, two or three piece, this is also personal preference, I at first purchased a two-piece cue so that it could be separated after used and stored in a wooden case quite easily, you can purchase cases etc.
A three Quarter cue is much easier to carry around than a one-piece and in snooker helps in the overall strength in the cue compared to a two-piece. This is because of the joint dimensions and the overall balance of the cue. (also stay straighter longest)
For a new type of cue design our own is a leader in innovation and design. As pictured we have weight bolts which allow you our clients to change the balance and weight of your new cue.
For One-piece cues they are hard to transport and carry around with cases made up to 60-62 inches long and over a short period of time you'll wish you had bought a three-quarter cue which i know happened to me. Although this is true 65-75% of pro snooker players use a one piece cue.
British had an excellent reputation for quality but there are now many other countries producing quality cues including the USA, Thailand and China. Most British companies are now having their cues made in other countries and just re labeling them so be careful and do your homework.
One aspect that also must be considered when buying your own cue is the size of the tip, these can vary from 13mm down to 8.5 mm and each tip offers different benefits with the shots played and your own personal choice of playing.
The general rule is the larger the tip the more power you can play on your shot and as the larger tips have a large surface area contacting the cue ball you stand a better chance of a successful pot. Quite often pool and billiards cues have the larger tips but this does restrict you slightly on applying spin on the cue ball, this is commonly referred to as applying "English" among players.
Smaller tips allow you to apply more "English" or spin but as there is less surface area on the tip it increases the chance of missing the pot but as you get used to how the cue feels this becomes less of a problem.
Snooker players use smaller tips, right down to 9mm, this allows them to play a wider selection of shots which are involved in snooker.
Just to make life even more interesting you can get different hardness of the tip, soft tips cushion the shot you are playing and can reduce some of the power applied to the shot. With harder tips are great for power shots but yet again can mean less control of the spin applied to the cue ball.
As there is such a choice of tips most novice players will opt for a medium tip and as their game and style of play develops veer off to harder or softer tips. What you must remember is that softer tips have a shorter life than harder tips and will need to be replaced more often.